The Kirchoff EQ is soon to hit the shelves of the Plugin Alliance store. In this Kirchoff EQ review, we'll explore the highly customisable equaliser developed by Three Body Technology and see if it is better than the forever-reigning Fabfilter Pro-Q 3.
About Kirchoff EQ
First Impressions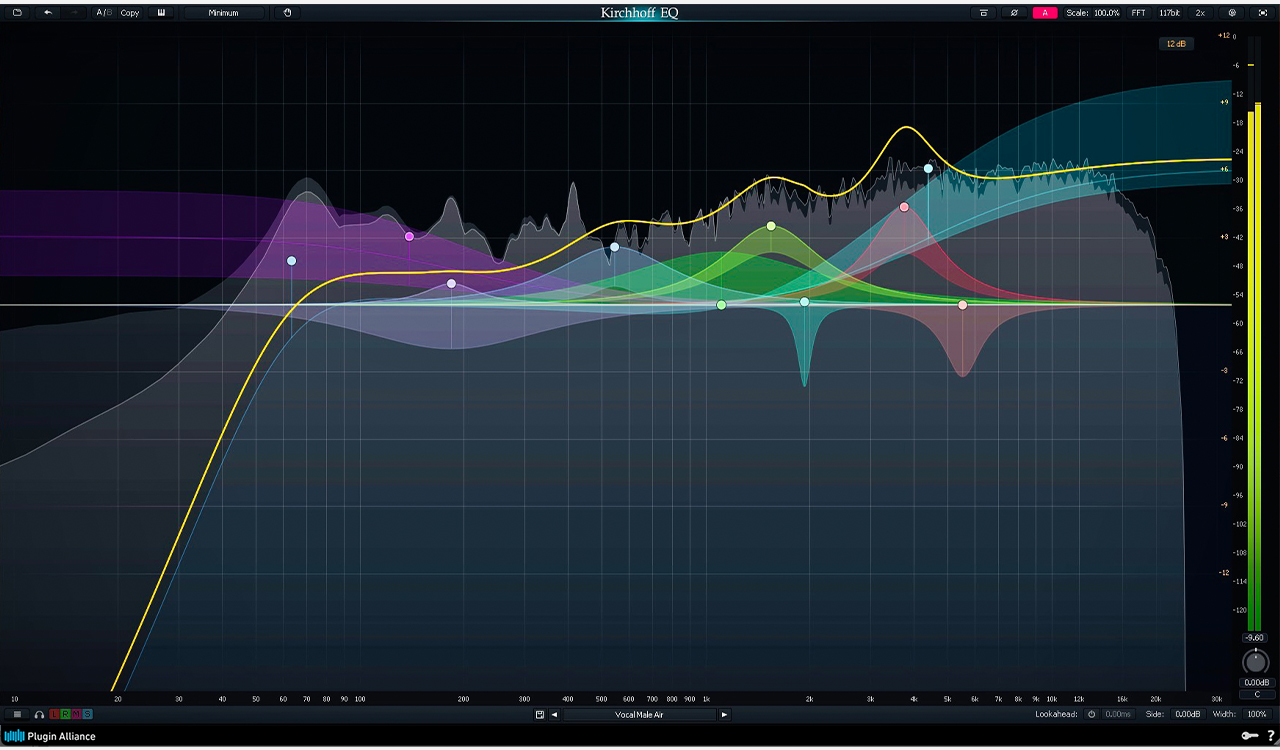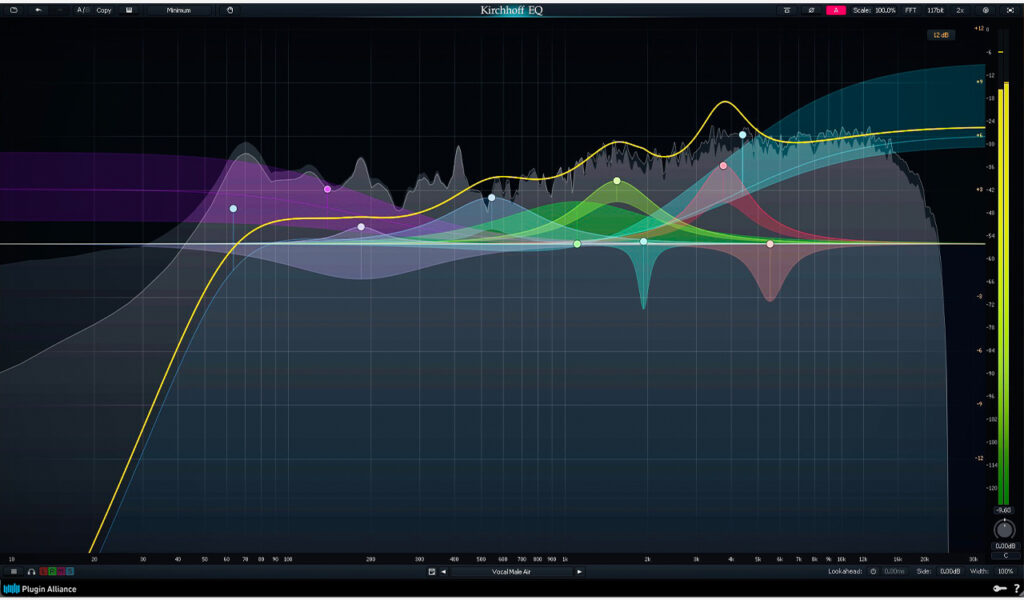 At a first glance the user interface appears to mirror the Fabfilter counterpart, however this plugin aims to push ideas as to what a parametric equaliser plugin can be. This is through enabling users to customise the user interface and create analogue and digital tones within one plugin.
Kirchhoff-EQ is an ultimate 32-band parametric EQ plugin built for all critical professional applications. It has refined sound quality, analogue-matched curves, 15 filter types with continuously variable shape and 32 vintage EQ types modelled from real-world devices. The built-in dynamic processing functions are highly flexible and have ultra-low distortion. All these push Kirchhoff-EQ to a next-generation standard.

Three-Body-Technology
Endless Customisability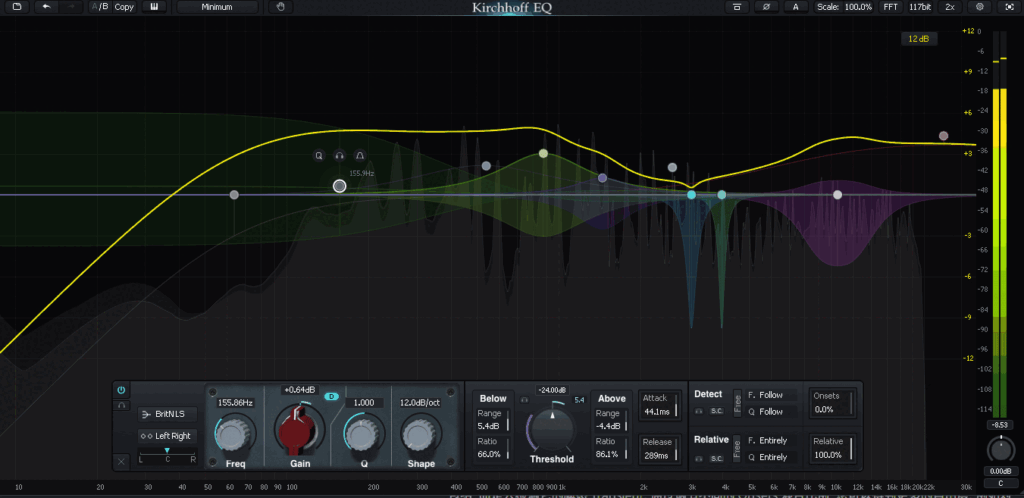 Whilst the ability to customise the graphical user-interface is fun, it's not a game-changing feature. However the customisability feature that is innovative is the ability to use different analogue-style filters and bands. Such as by Neve, Pultec and Solid State Logic. Non-linearities were not observed when testing the plugin. This is disappointing as this is largely what people are after when using analogue equalisers. However, the general character of the referenced analogue gear is replicated well.
On the same theme of customisability, it is also noticed that the Dynamic EQ section is highly customisable. Which is something that is lacking in Fabfilter's Pro-Q 3 plugin. With the Kirchoff EQ, the dynamic EQ is much more representative of a multi-band compressor, however this review is more concerned with the fundamental equaliser capabilities. Which the prior is something that can be resolved with Fabfilter's Pro MB. Albeit this would require having to run two plugins as opposed to one.
"Ultimate Sound Quality"
Robust Nyquist-matched Transform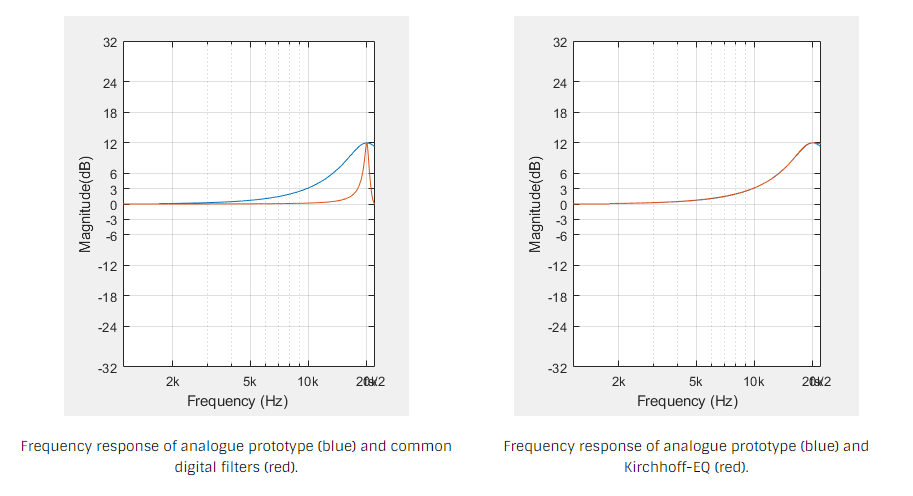 Kirchhoff-EQ has made digital-domain frequency response more approximate to its analogue counterparts. Without high frequency cramping as in regular IIR (infinite impulse response) equalizers. This technique is applied on all filter types in Kirchhoff-EQ. This enables the user to dial in a transparent and natural EQ sound without cramping. It should also be noted that Fabfilter also features anti-cramping technologies.
How Does the Kirchoff EQ Sound?
General
The Kirchoff EQ sounds phenomenal, and this is one of the main points in this review. In general as good, if not better than Pro-Q 3 by Fabfilter. This EQ does feel a little more fluid and smoother in operation and sound as opposed to the competition. There is no lag in the interface, the user experience makes sense. There are also no pops or pauses when adding/removing bands. Whilst in its essence, this EQ is more than what anyone would ever need. For advanced users, this allows for endless possibilities!
With Kirchoff and Fabfilter EQs, it's really a case of aluminium vs aluminum or comparing apples to apples. It's fundamentally the same product where you can't necessarily go wrong either way. However, this is as far as the similarities go. This is because the biggest standout feature is definitely the dynamics section.
Dynamics Section
In the dynamics section, you have two kinds of bands that you can choose. 'Above' and 'Below'. This refers to the threshold detection and not upwards or downwards compression. Whilst the below parameter looks for signal strength below the threshold at the specific band and brings it up. On the contrary, the above coefficient detects the signal strength going above the threshold and then gain reduces. Both bands can be used in conjunction with one-another with additional ratio and range functions.
Envelopes
Further to the above, the detect/relative envelope detection (as the feature is called), is a brand-new feature. This allows you to set a range of frequencies that triggers the threshold. This is to say, the frequencies are acted upon in relation to the range set by the relative sidechain. As opposed to the frequency spectra of the band itself.
For example, if you have a rogue sibilant word or cymbal that just seems to be poking through the entire mix, you can use this method to duck just that in relation to the mix. So when the element is in balance in relation to the mix, nothing happens. This makes for a great corrective processing and mastering tool.
The Onset Algorithm is quite different. In this, the envelope detector reacts more specifically to transients inside of the envelope. So you can fine-tune the tone of transients. What this means is that you basically have control over impulsive sounds in your mix. This again is quite useful in mastering to take care of discrete sounds that poke out a little too much.
Both these envelope detection algorithms can be used independently and together. You can choose how much the envelope detection influences the sidechain filter by playing with the mix amounts for each. You can have an external side-chain for both!
Phase Modes
Mixed phase modes are also included with the Kirchoff, unlike Fabfilter Pro-Q. This means you can have zero latency, minimum phase and linear phase modes that vary per frequency band. This allows you to do more within a single instance of an EQ plugin. Minimum phase such as found in Pro-Q tend to provide a mix of the benefits of linear phase and the benefits of zero latency.
The Verdict!
Can the Kirchoff EQ replace Fabfilter's Pro-Q? Possibly. Whilst I can't give a definitive answer, I can say that if you need a dynamic EQ, the Kirchoff may be for you. If you are looking for a typical digital equaliser, then I would probably prefer to use Pro-Q 3. Whilst the Kirchoff EQ is innovative and unique, yet with a familiar GUI, it doesn't push the envelope enough to justify dropping the consideration for Fabfilter's Pro-Q 3 just yet. If you want an all-in-one plugin that provides both digital and analogue tones, then this may just be the perfect plugin for you!
Overall, I give this plugin a score of 9.2 out of 10.
Ease of Use: 8/10
Sonic Quality: 10/10
Feature Set: 10/10
User Interface: 10/10
Value: 8/10
As for the price, all Plugin Alliance plugins can be purchased for an affordable monthly cost when subscribing to one of the MEGA bundles. The plugin like many available on Plugin Alliance are also regularly discounted. Sign up to their mailing list to get the best offers. The plugin is also available directly through the Three-Body-Technology website.
Enjoyed the Kirchoff EQ Review? Comment below to let us know your thoughts! Also check out my most recent review of 'The Oven' here.
You download a free trial, find out more or purchase the Kirchoff EQ here: Plugin Alliance – Kirchoff EQ