The AMEK Mastering Compressor finally gives us a compressor to compliment the AMEK 200 and AMEK 250 EQs. Based on the GML 8900, the new compressor by the AMEK brand provides multiple true RMS detection and crest factor control. This beast of a plugin from Brainworx gives you three compressors in one.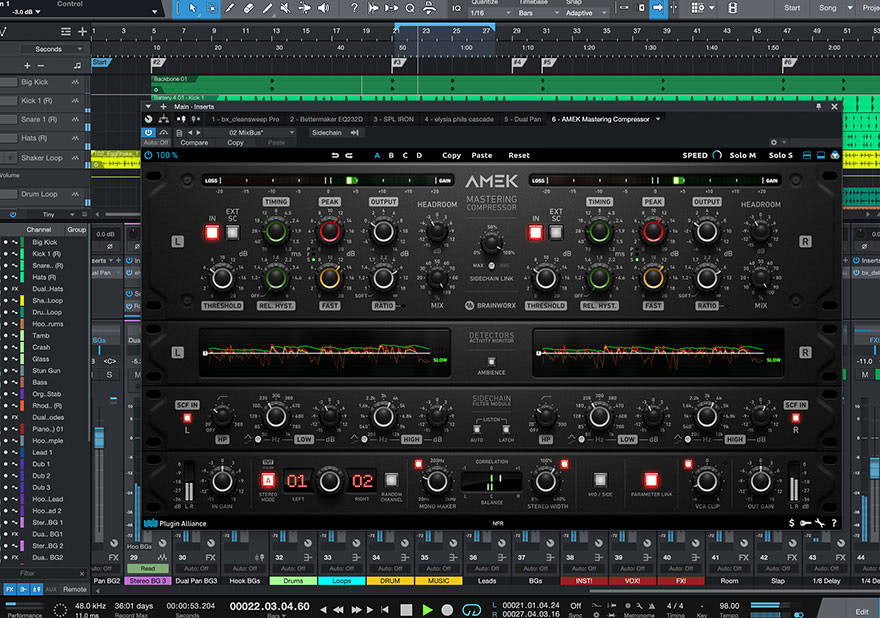 Do I NEED Another Mastering Compressor?
Short answer, yes you do! I can confirm that this compressor does have unrivalled levels of transparency. But most importantly, an approach to compression rarely seen within the digital domain.
Like the original GML hardware, through using multiple RMS signal detection circuits, this enables the compressor to take on a psychoacoustic approach to processing audio (as opposed to simply reacting to the peak signal). The benefits? A natural sound which is synonymous to the way the human hearing system works.
How Does the AMEK Mastering Compressor Sound?
This plugin compressor is fundamentally very transparent – and rightfully so, as this is desirable for a mastering-grade plugin. As expected, the AMEK Mastering Compressor delivers results quickly and without fast, whilst sounding transparent, yet the potential for tightness and bold dynamics control.
Features
The plugin provides many features to tailor the compressor to the programme material such as timing controls, ratio, threshold in addition to a mix control. The plugin also features the revered Brainworx TMT which models the tolerances of parameters to imitate the difference one may find between two analogue units.
The plugin also features external side-chain compression capabilities which would allow the compressor to be programmed in creative and unique ways to get a varying degree of results, from soft-slow warm, to punchy and sharp. The mid/side control matrix also allows you to give your mix depth and character in the stereo field.
Overall Thoughts
This mastering compressor is like no other, and in typical Brainworx and Plugin Alliance fashion, beautifully marries ideas from the analogue and digital domains together into a neat, easy to use and cost-effective plugin to get the results you want!
Overall I give this plugin a score of 8.8 out of 10:
Ease of Use: 8/10
Sonic Quality: 10/10
Feature Set: 10/10
User Interface: 9/10
Price: 7/10
The AMEK Mastering Compressor is on sale for $149.99 USD for a limited time (MSRP $399 USD). It is included in all MEGA bundles at no extra cost. It's available to FOREVER 29 users as well with a FREE TRIAL on the Plugin Alliance website.