Finally… my review of Soothe2. Music production has come a long way in the past few decades. From the days of analogue recording to the digital era, producers and engineers have been seeking out new ways to improve the quality of their mixes. One of the most important aspects of any mix is the dynamic range. Managing dynamic range can be challenging, especially when dealing with complex audio material such as vocals, drums, or guitars which cause unwanted resonances. This is where Oeksound's Soothe2 comes in.
What Does Soothe2 Actually Do?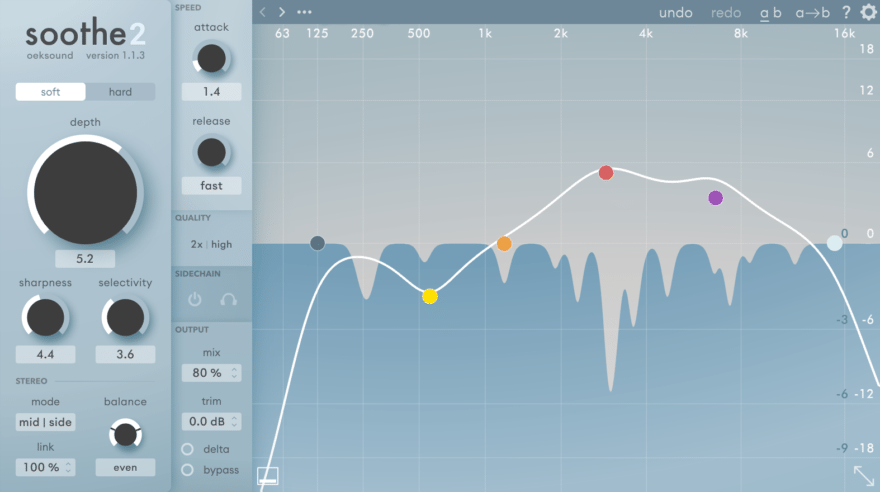 Oeksound Soothe2 is a dynamic equalizer designed to suppress unwanted resonances in audio material. It works by analyzing the audio signal and applying dynamic EQ processing to reduce or remove resonances in real-time. Resonances can cause listening fatigue, harshness, and other unpleasant artifacts in audio recordings, especially in complex material like vocals, drums, and guitars.
Why Does Soothe2 Cost So Much?
Soothe2 uses a proprietary algorithm to detect and process only the problematic resonances while leaving the rest of the audio signal untouched. This allows for a more balanced and natural sound without affecting the overall quality of the recording. Soothe2 is incredibly versatile and can be used on a wide range of audio material, including vocals, guitars, drums, synths, and more. From my experience, no other similar plugin comes close to the sonic clarity and resolution of Soothe2's processing.
In the near-future, Oeksound has mentioned on their website that their plugins will soon be able to be purchased through a rent-to-own plan. In the meantime, Soothe2 retails for $209.99 USD or £179 GBP. Unfortunately, Oeksound do not offer any form of student discount.
Why Should You Buy Oeksound Soothe2?
Soothe2 is a rare plugin that provides a solution which JUST WORKS. The only issue I have is that it is a difficult to learn plugin as it is something new and unique with a lot of control and flexibility provided to the user. So reading the user-manual is a must! But rest assured, once you know your way around this plugin it will immediately improve your mixes.
Final Thoughts – Soothe2 Review
Overall, Soothe2 by Oeksound is an essential tool for anyone involved in music production. It can help achieve a more balanced and natural sound in recordings by removing harshness, listening fatigue, and other unwanted artifacts caused by resonances. Its ease of use, versatility, and ability to reduce sibilance in vocal recordings make it a must-have plugin for any producer or engineer looking to enhance the quality of their mixes. Overall I give this plugin a score of 7.8 out of 10:
Ease of Use: 4/10
Sonic Quality: 9/10
Feature Set: 10/10
User Interface: 10/10
Price: 6/10
Sounds like a plugin you'd like to try? Get a free 20-day demo of Soothe2 here. Enjoyed this review? Please check out my review of the Soundtoys SuperPlate here.