Soundtoys 5 is a bundle of every plugin within the Soundtoys arsenal. These plugins are an essential main-stay to any producer or mix engineers' plugin collection. The collection is used by the top producers and mix engineers of today. Including: Matt Schaeffer; Mike Dean; Greg Wells; Kenny Beats; and Ludwig Göransson. Read this Soundtoys 5 review to find out how this plug-in collection can benefit your production in addition to personal notes as to why I use this collection myself.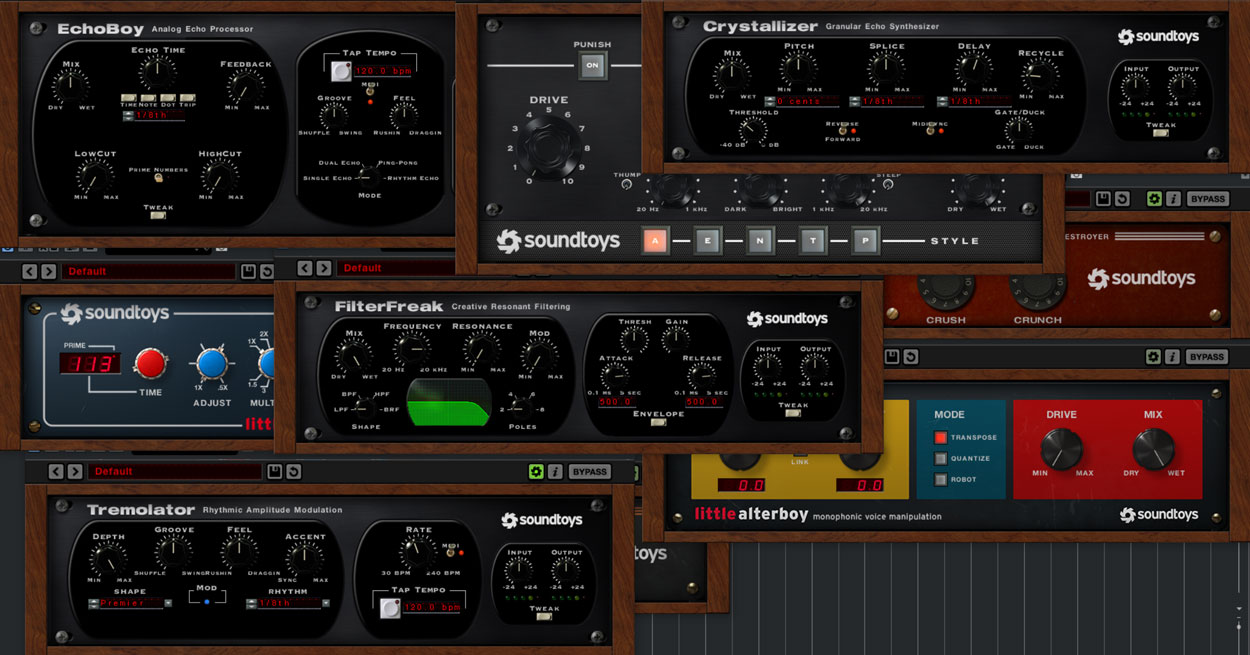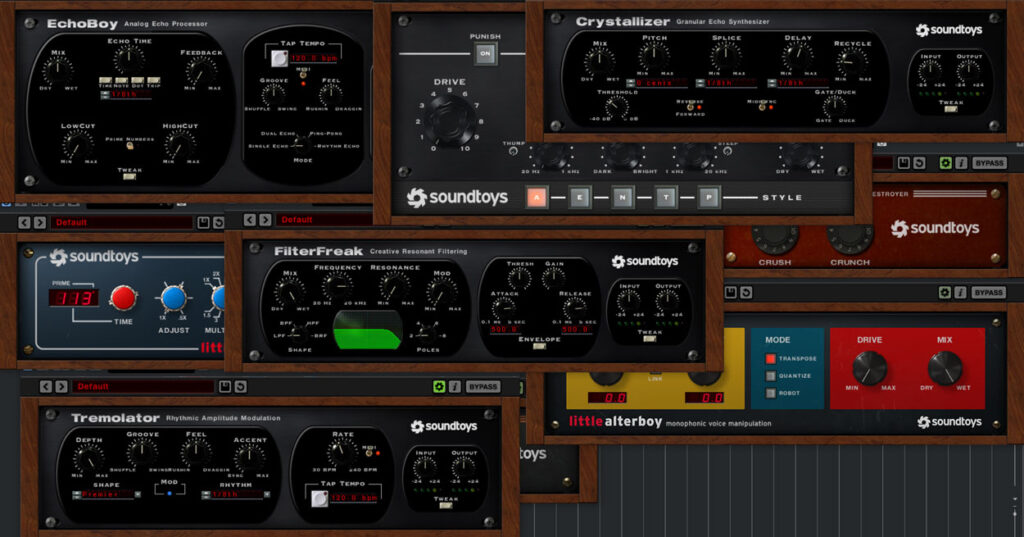 Why I Use Soundtoys
Admittedly, I do not own the full suite of Soundtoys 5 plugins. However over the past 5 years I have been gradually growing my collection and discovering one-by-one each of their plugins. So why am I reviewing the entire collection? Simply because you get amazing value and sonic quality for a very good price (and even better during sales periods).
In 2017, my journey first began when I started to research into plugins that can apply harmonic saturation to my music. I often found that stock plugins sounded okay, but just didn't feel 'expensive'. I also found that cheap distortion plugins often sounded a lot worse than what was already available within the digital audio workstation.
So, my first solution was to budget a little more – and then I discovered Soundtoys through a black Friday sale. This was a game-changer for my production. This one plugin was able to give my productions tape saturation (Ampex), vintage console saturation (EMI and Neve 1073) in addition to triode and pentode saturation similar to the Thermionic Culture Vulture hardware unit.
Up to recently, I have then discovered the amazing pitch modulation capabilities of Little Altarboy; the three-dimensional feeling of Microshift; the immersion and endless character and customisability of EchoBoy in addition to many of their other products. In fact a secret weapon I often like to use is the Crystalliser. This gives you delicious reverse echo that often sound amazing when designing other-worldly sounds.

So if I had to summarise the benefits of the sound-toys plugins, what would I say? Well, firstly, you get more than what you pay for. You also get good support from the developers in addition to promising and consistently great results with any programme material you throw at their plug-ins.
Included Plugins
The Soundtoys 5 bundle comes with 21 different effect plugins:
Crystallizer
Decapitator
EchoBoy
EchoBoy Jr.
Little AlterBoy
Little Plate
Primal Tap
Devil-Loc Deluxe
Radiator
Microshift
Tremolator
Sie-Q
FilterFreak
PhaseMIstress
PanMan
Little MicroShift
Little PrimalTap
Little Radiator
Devil-Loc
And like myself, you also do not have to purchase the entire bundle. You can slowly grow your collection, or purchase plugins through sales and then whenever you're ready, you can even receive an offer to upgrade to the entire Soundtoys 5 collection at a discounted price.
Deep Dive of Decapitator
This next section of the Soundtoys 5 review dives a little deeper into my favourite plugin from the Soundtoys plugin collection.
Decapitator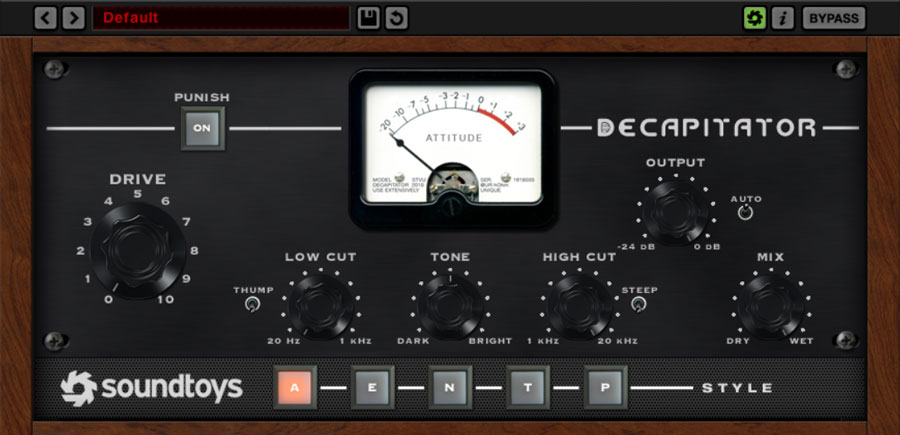 The decapitator is probably the most revered Soundtoys plugin. And is one that I find myself using most often.
The plugin is designed as an analogue emulation of saturation from multiple pieces of hardware. The result is smooth, aggressive yet humble and non-abrasive distortion. You can get varying results thanks to the built in tone and filter controls. With this plugin you may also lightly use in a mix to add sheen to a track or use harshly with the 'punish' function to drive guitars or synthesisers. The mix control and auto-adjusting output control is also an added bonus and enables you to tailor the level of saturation whilst ensuring appropriate gain-staging.
In operation, you simply place the plugin onto a track and this will immediately detail some minor adjustments to the audio signal which is notably satisfying and much more 'analogue'. From here, increase the drive to taste (optionally use the punish button to get a little more 'umph'). Then, select the best-sounding style of saturation whilst adjusting the tone, low-cut and high-cut controls. Whilst the output does auto-adjust, it is often best practice to bypass the plugin and adjust manually to ensure that the level post-process is similar to pre-insertion of the plugin. Lastly, use the mix control to taste.
Here's a brief description of each saturation mode:
A – Ampex 350 tape drive preamp
E – Chandler/EMI TG channel
N – Neve 1057 input channel
T – Thermionic Culture Vulture triode setting
P – Thermionic Culture Vulture pentode setting
The Verdict
Whilst in some instances, other plugin collections are fantastic. It is often the case that you're either choosing a sound that is wholly digital, or entirely 'analogue'. With Soundtoys 5, there is a blur between these two domains. Whilst fundamentally the Soundtoys suite of plugins is to model analogue hardware, the user interfaces and user experience of the plugins are not limited by skeuomorphic design that is heavily influenced by the original hardware. Overall I give this plugin a score of 9.2 out of 10:
Ease of Use: 9/10
Sonic Quality: 10/10
Feature Set: 9/10
User Interface: 9/10
Price: 9/10
You download a free trial, find out more or purchase the Soundtoys 5 bundle here (academic discount is also available upon enquiry): Soundtoys 5